Plainfin midshipman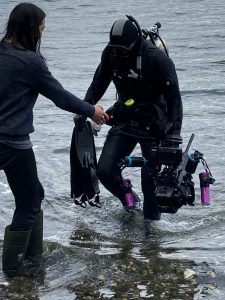 A film crew left after eighteen days on our beach filming the strange spawning and mating ritual of the Plainfin midshipman, aka Toad Fish. The footage will be part of a future special tentatively titled "The Secret World of Sound."  It will be shown on CBC's "The Nature of Things" in Canada, Sky TV in the UK, and on Netflix.
Harking from British Columbia, Toronto, and Sweden, the crew included field director Louisa Gilbert, Tavish Campbell and Dierdre Leowinata, camera operators and divers, Michael Kennedy, sound recordist, and Cortney Gilbert, intern/assistant. The filmmakers Dugald Maudsley of Infieldfly Productions and Monika Delmos, and Production Manager Dianne Marcotte were overseeing the project from Toronto. The on-site crew stayed at a nearby Airbnb. Under the supervision of Plainfin midshipman expert Dr. Aneesh Bose, originally from Ontario but currently conducting research out of Sweden and Africa, the crew arranged nests using rock slabs and filmed and recorded underwater when the tide was in, often at night.
Growing up here on Hood Canal, a natural, deep-water fjord that's part of the Salish Sea, Kirie was well aware of the midshipman and their relationship as a food source for bald eagles, herons, and crows. Kirie and her siblings called them "grunt fish," because the males, which tend the eggs for three months, emit a grunt to warn off predators. What we didn't know, and what attracted the film crew, is the seriously loud hum the males emit to attract females to the nests, where they turn upside down to deposit clusters of eggs on the underside of the stone slabs and boulders.
The magical migration of the midshipman.
Plainfin midshipmen are distinguished by photophores, light-emitting organs that are used to attract prey. These photophores look like the buttons on a naval officer's uniform, hence the name midshipman. In winter, midshipmen inhabit deep water (400 feet). In early spring they begin a migration to shallower waters along the Pacific coast, from Alaska to Mexico.
When local scientist Peter Bahls brought Louisa Gilbert and Kai White for what British Louisa calls "recce" on the Pulali site in April, they found three Plainfin midshipmen in a hundred-foot stretch of beach below Kirie and Celia Pedersen's cabins. The shoot set up on May 15th, and eighteen days later, the crew estimated more than 3,000 midshipmen nestled under the rocks on that same expanse of beach. The collective hum is loud enough to drown out human speech. "It sounds like monks chanting," Celia said.
Despite years of studying what he calls the "charismatic" Plainfin midshipman, the subject of his Ph.D., Dr. Bose says no one knows where the fish come from or where they go after spawning. "It's a mystery," he says.
The crew
We were privileged to provide beach access to these sweet, charismatic, and brilliant people devoted to introducing natural mysteries through film and storytelling.
Aneesh Bose, one of the world's foremost experts on midshipmen, came from Sweden. See his brief video on Plainfin midshipman, parts shot in Dabob Bay, and his other projects at aneeshbose.com
Tavish Campbell. See amazing footage, articles, and images at tavishcampbell.ca
Deirdre Leowinata. See Deidre's interactive website featuring her incredible "core values" at dleowinata.com, and her post-shoot reflections (2017) and first Geoduck burger: pacificwild.org/post-shoot-reflections/
Michael Kennedy, Sound Recordist, Big Wave Sound
Louisa Gilbert, wildbusfilms.com See more about Louisa's journey at mountainculturegroup.com/wild-bus-films-cool-school-bus/
Pacific Herring
This portion of the Brinnon Quadrangle is identified as a Pacific herring habitat of "international significance." Spawning pockets accumulate throughout the near shore algal communities. It's quite an event to witness the herring spawn.
From the May 14, 2020 story by Puget Sound Partnership titled This year's herring spawn events in Puget Sound were the largest in decades:
"In early March, community members like Kirie Pedersen — who lives on Dabob Bay, near Brinnon — started noticing increased feeding activity from sea mammals and birds. Pedersen said she saw sea lions, harbor seals, bald eagles, and shore birds all feeding by the water near her house. A few days later, the activity was even more pronounced. "During this period, hundreds of birds appeared along with more eagles, harbor seals, sea lions, and even transient orca, no doubt to feast on the seals, all this feeding activity accompanied by twenty-four-hour-a-day vocalization," she said."
Read the full story, with photos, on Medium.
See this fantastic visual story map titled Herring Highway by the Coastal Watershed Institute, examining the health and importance of the herring population in our area.