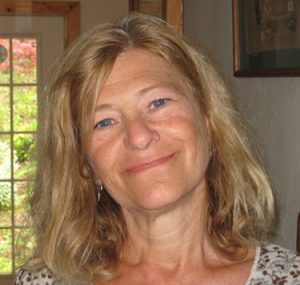 Kirie is a writer, editor, and educator. Her writing appears or will appear shortly in Caper Journal, Wisconsin Review, Eleven Eleven, Eclipse, RiverSedge, Utne Reader, SevenDays, The View from Here, Regeneration (Rodale Press), Avatar Review, Northwest People, Chaffey Review, Teachers and Writers, American Motorcyclist, Folly, A Gourmet Notebook, Teachers and Writers, Rkvery Literary Quarterly, Blue Stem,  Laurel Review (Greentower Press), Burrow Press Review, Glossolalia, Avatar Review, Quiddity International Journal and Public Radio Program, South Jersey Underground, Burrow Press, Foliate Oak, Juked, Pithead Chapel, Apocrypha & Abstractions, Superstition Review, Hackwriters Magazine, The Great American Literary Magazine, Agave Review, Eclectica, Ginosko Literary Journal, New Plains Review, END/PAIN, Lunch Ticket, Weber Journal, Cease, Cows, Mount Hope Magazine, Kaleidoscope, Emrys Journal, The Artist Unleashed, Under the Sun (selected as Notable for 2018 Best American Essays), Noctua Review (fiction finalist), Magnolia Review (winner of  Ink Award, nominated for 2017 Pushcart Prize), Sou'wester, Still Point Arts Quarterly (nominated for 2017 Pushcart Prize), and elsewhere. She has taught writing for gifted and talented inner city students, elders, and enlisted men and women and their children. "Rules of the Wild" is the featured story in the Spring 2019 Weber Journal.
Washington State commissioned and published Kirie's Writing Handbook for Teachers and Tutors (published in Spanish and English) and Teaching Creative Writing Using Native American Songs and Myths. 
Kirie holds her M.A. in fiction writing from Western Washington University, where she was privileged to study with Annie Dillard, Eugene K. Garber, and Kelly Cherry.
Contact Kirie: kirie@kiriepedersen.com
Excerpt from HalfKorean.com interview with Mia Crowe
When I was growing up, one of the people who influenced me a lot was this woman named Kirie Pedersen. I was in an accelerated program in school called GIFTED AND TALENTED where kids from different schools were bussed to classes once a week to learn at a more accelerated rate. The teacher's assistant was Kirie and she was this bohemian type woman who read us poetry, taught us Spanish and told us about her experiences traveling in Mexico, and encouraged me to do creative writing assignments and stretch my imagination. She was the best! She was not like the other adults I had met- she was hip and cool and talked to me like I was an adult. Even the way she spelled her name was cool and different! So I thought that if I could volunteer my time to these teenagers at CHILDREN OF THE NIGHT, and not preach to them or tell them how to live but just SHOW them who I am and how I live, I may inspire somebody to follow whatever dream they might have-to be a nurse, a painter, or whatever. I followed my heart against the odds and I thought if they saw that a girl like me could do it- they could do what they want too.