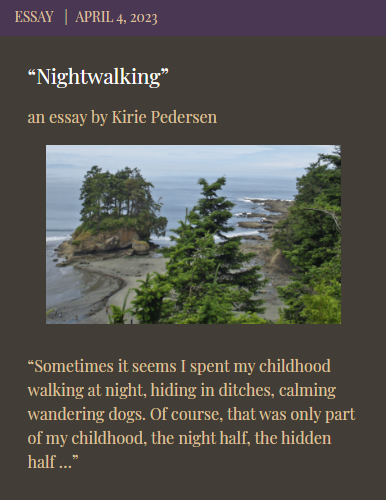 "… it is not the skill of the hand / That writes poetry, but water, trees, / And the sky which is clear to us even though it's dark.
— Czeslaw Milosz
"I think all of us have an ancestral line or ancestral helpers that all we have to do is ask."
— Joy Harjo
Pulali Point, a peninsula jutting into Dabob Bay, Jackson Cove, and Hood Canal, sits pretty much in the middle of Washington State's Olympic Peninsula. The cliffs date from the Eocene Era and are about forty million years old. For ten thousand of those years, people frequented the trails lacing these cliffs.
Read Nightwalking by Kirie Pedersen in On The Seawall
On The Seawall is a community gallery for new writing and commentary during a time of emergency. (There always is, and there always has been an emergency.)We think of On The Seawall as a "gallery" — a location in the neighborhood, a place where we display our work for our community, where everyone is welcome to create and witness the work.